Beschreibung

No Need for More Speed mit dem Apollo Pro
Apollo Pro ist ausgestattet mit zwei Hochleistung bürstenlosen Motoren – einer vorne und einer hinten. Jeder Motor besticht durch 1000W mit 1200W Spitzenleistung. Auf dem Tacho bedeutet das eine Höchstgeschwindigkeit von 65 km/h und dazu kannst du mit dem Pro eine Steigung von 40 Grad mit Leichtigkeit erklimmen.  Der Pro erreich 25 km/h in 2.8 Sekunden und 40 km/h in 6.1 Sekunden. Er befördert Rider mit bis zu 150 kg problemlos. Wenn Drehmoment und Leistung dein Ding sind, dann ist der Pro dein Gefährt(e).
Alles in Reichweite
Mit 52V 22.5aH Akku, ausgestattet mit LG cells, bietet der Apollo Pro 90-110 km Reichweite im Eco Mode. Mit voller Leistung kannst du eine Reichweite von ca. 90 km erwarten. Wenn die Batterie dann mal aufgeladen werden muss, findest du zum schnellen Laden gleich zwei Ladeanschlüsse. Mit einem Ladeanschluss ist dein Pro nach 10 Stunden wieder im vollen Saft, mit zweien dauerts halb so lange.  Ein Schnellladegerät ist auch erhältlich, der das Aufladen nochmal um 4-5 Stunden verkürzt.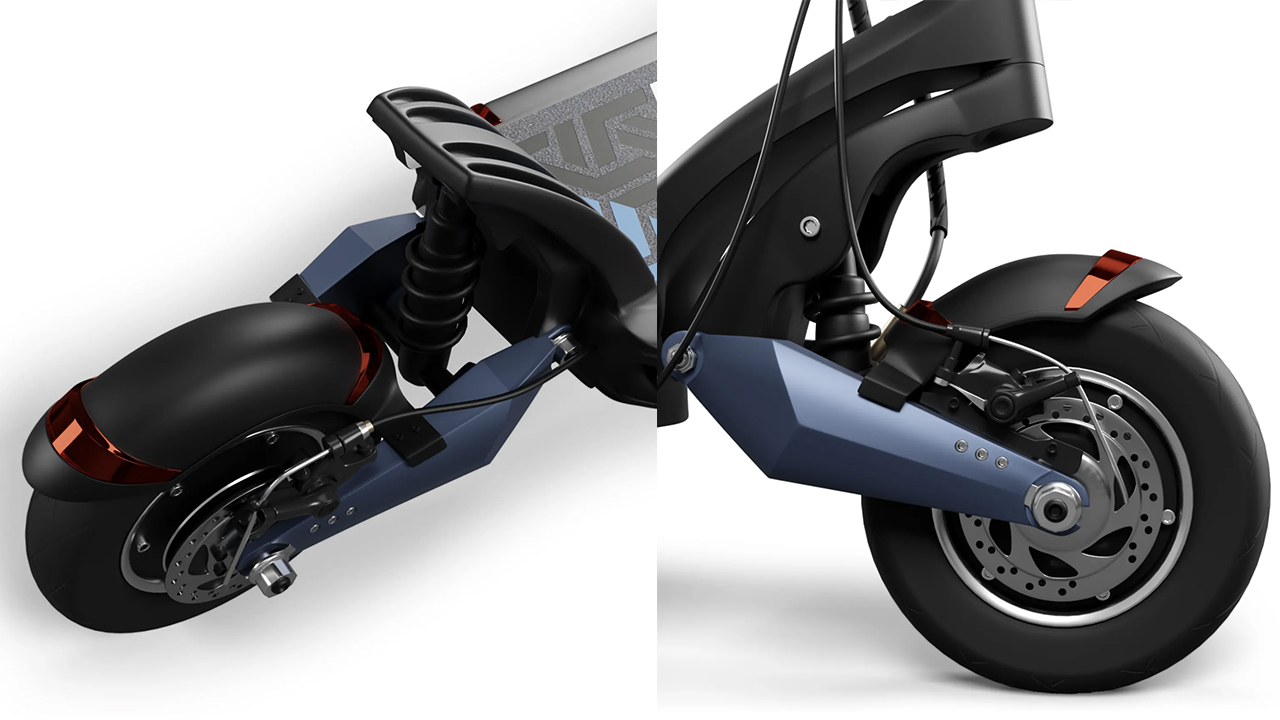 Hohe Leistung verlangt hohe Sicherheit
Eine Höllenmaschine wie der Apollo Pro, muss mir höllisch guten Bremsen ausgestattet sein. Der Pro ist ausgestattet mit zwei Hochleistungsscheibenbremsen und einer elektrischen re-gen Bremse, zusammen erreichen sie einen durchschnittlichen Bremsweg von 5 Metern. Die Scheibenbremsen nutzen Hochleistungsbremszangen die eigens von unserem Chefingenieur angebracht werden, so dass sie direkt für die erste Fahrt perfekt eingestellt sind. Die re-gen bBremse wird aktiviert wenn du kein Gas gibst und funktioniert durch  activates when the throttle is not being pressed and works by passing a reverse current through the motor. This smoothly slows down the motor and re-charges the battery while doing so. This brake system will bring any beast to a stop – even the Pro.
Ultimate Riding Comfort
Apollo Pro is by far the most comfortable scooter you will ever try. Featuring dual coil-over-air shock absorbers, one in the front and one in the rear, you will glade over rough terrain and city potholes with absolute ease. In addition, 10-inch pneumatic tires will further cushion any impact to the scooter. Whether you are looking for an off-road warrior or simply want to cruise city streets with no concern for comfort, the Pro will over-deliver in both cases.
Command Centre at Your Disposal
Stay in-the-know with key riding statistics such as speed, distance, battery charge, and more. The Pro comes with a number of configurable settings too – choose between kick-and-go or instant acceleration. Turn on cruise control for longer rides. Choose acceleration strength or switch between imperial and metric systems. In other words, configure the Pro to make it your own.
Den Apollo Pro besser kennenlernen
Möchtest du noch mehr technische Details zum Apollo Pro wissen? Schau in unsere zum Bersten gefüllte Datenbank  unter help.ridefatdaddy.com.